Foreign Policy, Regionalism and International Cooperation in a Pandemic Scenario: A Project in Partnership with CAPES Print
The project is coordinated by Carlos Milani, Labmundo coordinator, Leticia Pinheiro, NEAAPE coordinator, and Maria Regina Soares de Lima, OPSA coordinator. As a result of the pandemic, some agendas have been changed – and are now being organized only digitally. Over the coming months, we will be disseminating various forms of material, including webinars, texts and videos, on various agendas that cover foreign policy, regionalism and international cooperation. The official website of the project can be found at: http://www.iesp.uerj.br/capes-print-cp/
September/October 2020 Agenda:
I. Foreign Policy
1. Past, Present and Future of Foreign Policy – Interview with Celso Lafer

2. "Assertive and Active Foreign Policy' – Live Interview with Celso Amorim
August 2020 Schedule:

I. Human Rights 
1. Video lesson about Africa, Covid-19 and Human Rights – Prof. Alexandre dos Santos (IRI/PUC-Rio)
2. Interview with Paulo Abrão (CIDH)
3. Interesting links about Covid-19 and Human Rights
4. Webinar on Human Rights and Covid-19 with Deisy Ventura (USP) and Camila Asano (Conectas)
5. Interview with Alison Brysk (University of California)
II. European Union

2. Video lesson with Marcio Sette Fortes (Ibmec) on the Mercosur – European Union trade agreement.
3. Interview with Andrea Hoffman (IRI-Puc Rio) on the relations between South America and Europe.
4. Collection of interesting links about the European Union.
5. Video lesson on migrations in Europe in a pandemic context, with Felipe Leal (ICS-UL)
Agenda July 2020: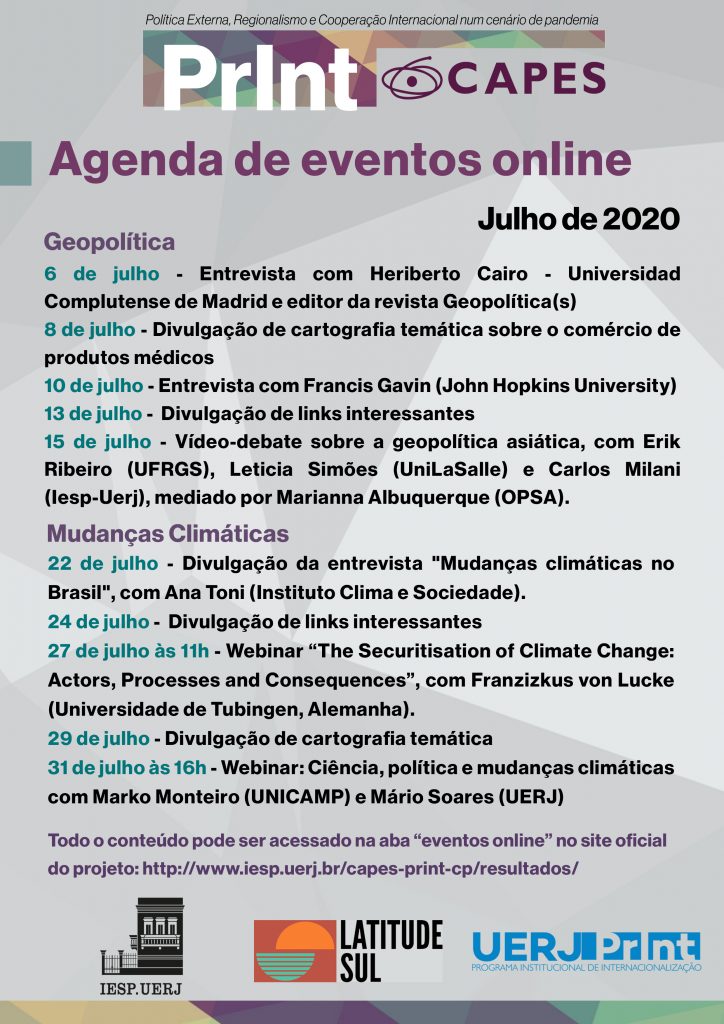 July Schedule – 2020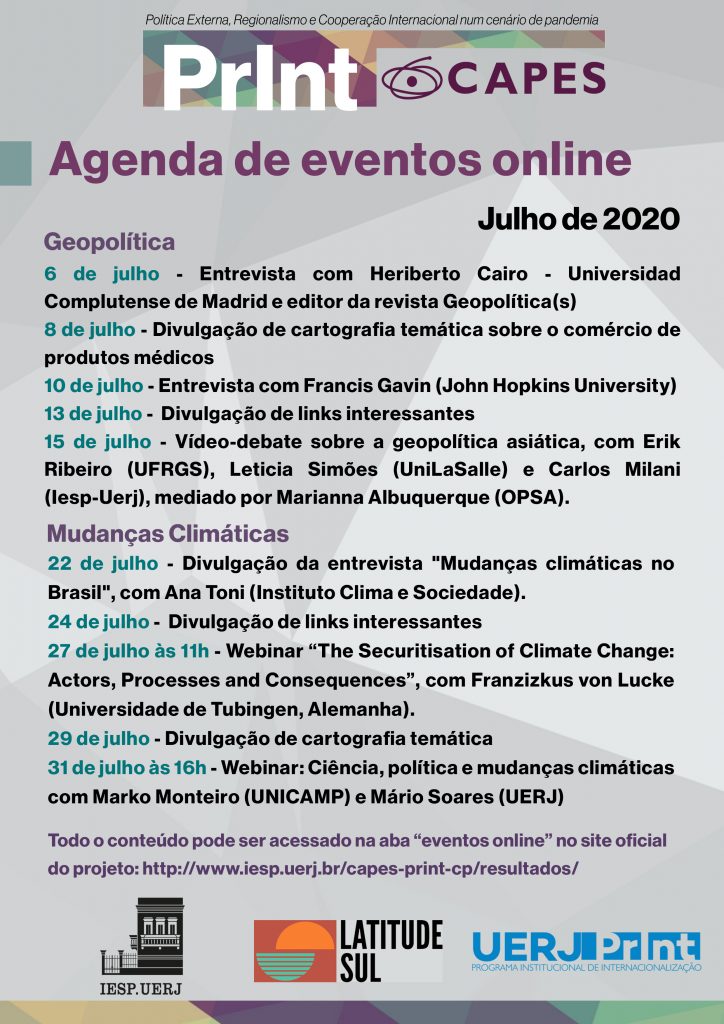 I. Geopolitics
Interview with Heriberto Cairo (UCM)
2. Thematic Cartography: Geopolitics and Covid – medical supplies trade (click here to download)
3. Interview with Francis Gavin
4. Links Collection: Geopolitics and Covid (click to open)
5. Video on Asian Geopolitics in times of the Covid-19 pandemic
II. Climate Change
1. Interview with Ana Toni (iCS):
2. Links Collection: Climate Change (click here to open)
3.  Webinar – "The Securitisation of Climate Change: actors, processes and consequences":
4.  Webinar – Science, politics and climate changes
June Schedule – 2020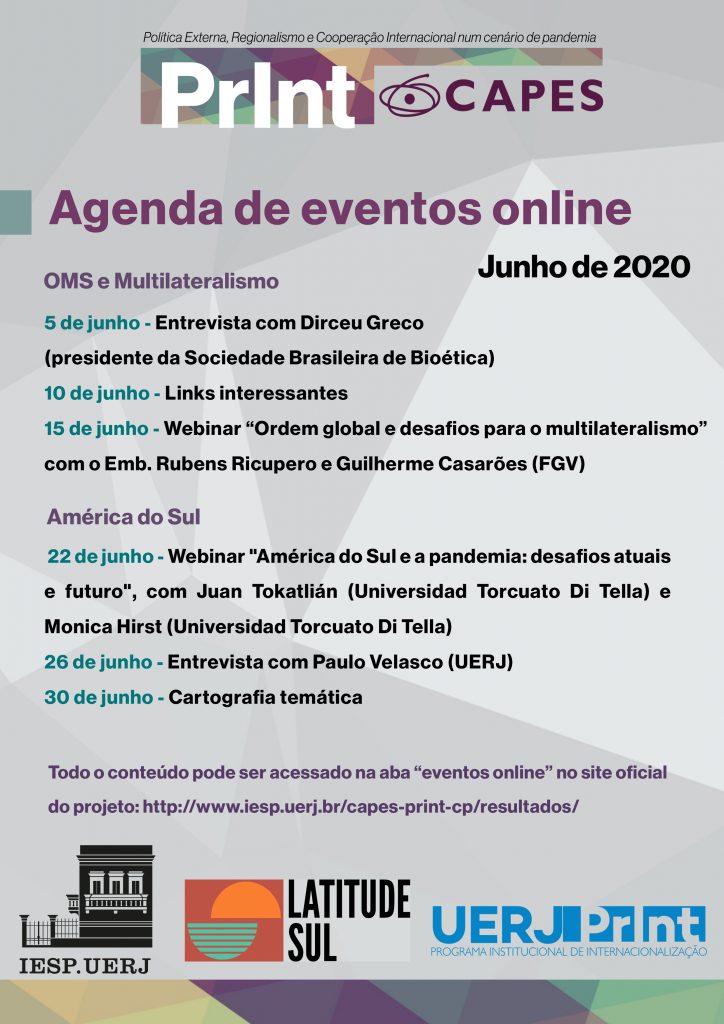 I. OMS e Multilateralismo
1. Entrevista com Dirceu Greco
https://www.youtube.com/watch?v=DKKBn9tVb3M&t
2. Links interessantes e artigo "Globalização da Saúde Pública: a Organização Mundial da Saúde e a cooperação na América do Sul"
3. Webinar: Ordem Global e desafios para o multilateralismo: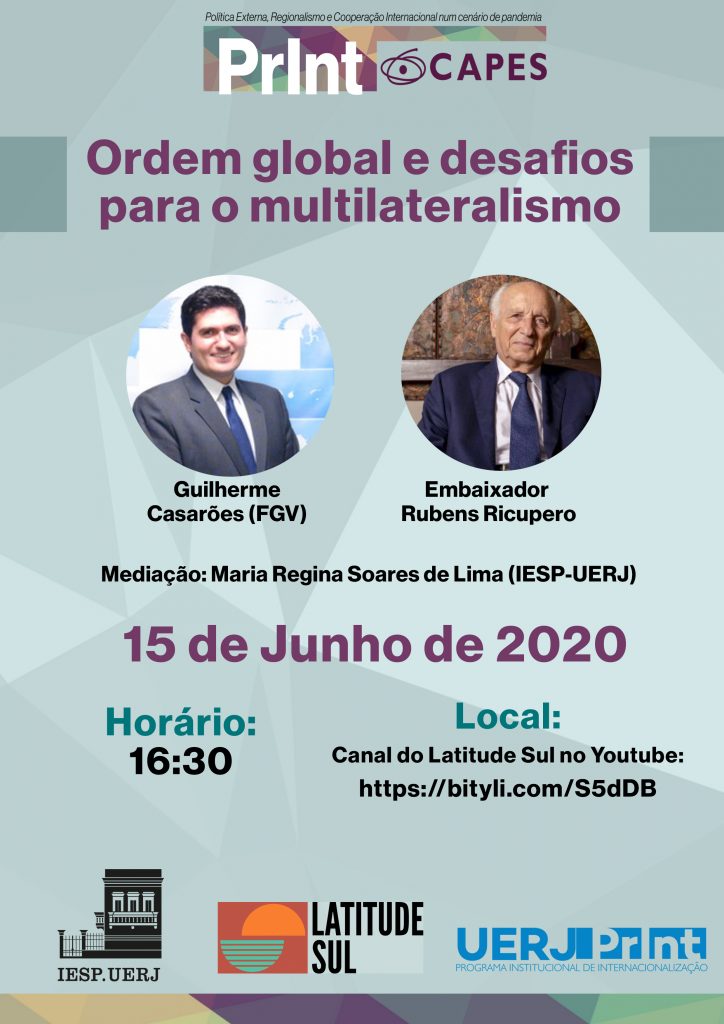 II. América do Sul
1. Webinar "América do Sul e a pandemia 2020", com Monica Hirst e Juan Tokatlian (22/06/20)
2. Entrevista com Paulo Velasco (UERJ):
3. Cartografia Temática
May Schedule – 2020:
I) International Cooperation
Interview with Professor Bertrand Badie:
2. Interesting links about International Cooperation
3. Thematic Cartography Collection 
II. Global Health
1.  Interview with Nísia Trindade (Fiocruz President)
---